Anyone who walks through a random city or across a schoolyard cannot ignore it. Parked bicycles as far as the eye can see. In the middle of the street, tied to a tree, a gutter, a garbage can or whatever is available. Existing bicycle racks are not used or used poorly and therefore miss their target. If it's up to designer Ton Kooymans of Street-Stuff! it will soon come to an end. He developed the revolutionary patented bicycle parking system AXLE that is not only bicycle and user-friendly, but also meets all sustainability requirements you can think of.
The cycling society' has been the most important theme in Ton Kooymans' work for thirty-five years. It is therefore not surprising that he, as a designer, stood at the cradle of Tulip, the Netherlands' most successful bicycle parking facility. The inspiration radiates from him. "While cycling you are much more in contact with other road users than a motorist. It is not only social, but also healthy and sustainable. It is not for nothing that the Netherlands emphatically profiles itself abroad as a bicycle-friendly nation."
Kooymans is a creative person who always keeps his eyes and ears open. "Now almost eighty percent of all bicycles sold are E-bikes," he notes. "Older people want to continue cycling without too much effort. Young people and employees cover greater distances, making cycling a good alternative to public transport. Critical users of expensive E-bikes with all kinds of electronic gadgets and accessories have very different requirements than traditional bicycle users. The current bicycle parking facilities cannot meet this requirement. Street Stuff! sells, for example, a flexible attachment to and from the frame and rear wheel and E-loading facilities with a safe to prevent theft of their own transformer. And how about the very popular swap bike with young people, which has a front fork luggage carrier and a light on the hub. It fits in our system, but not in the front fork sheds that you see at many schools."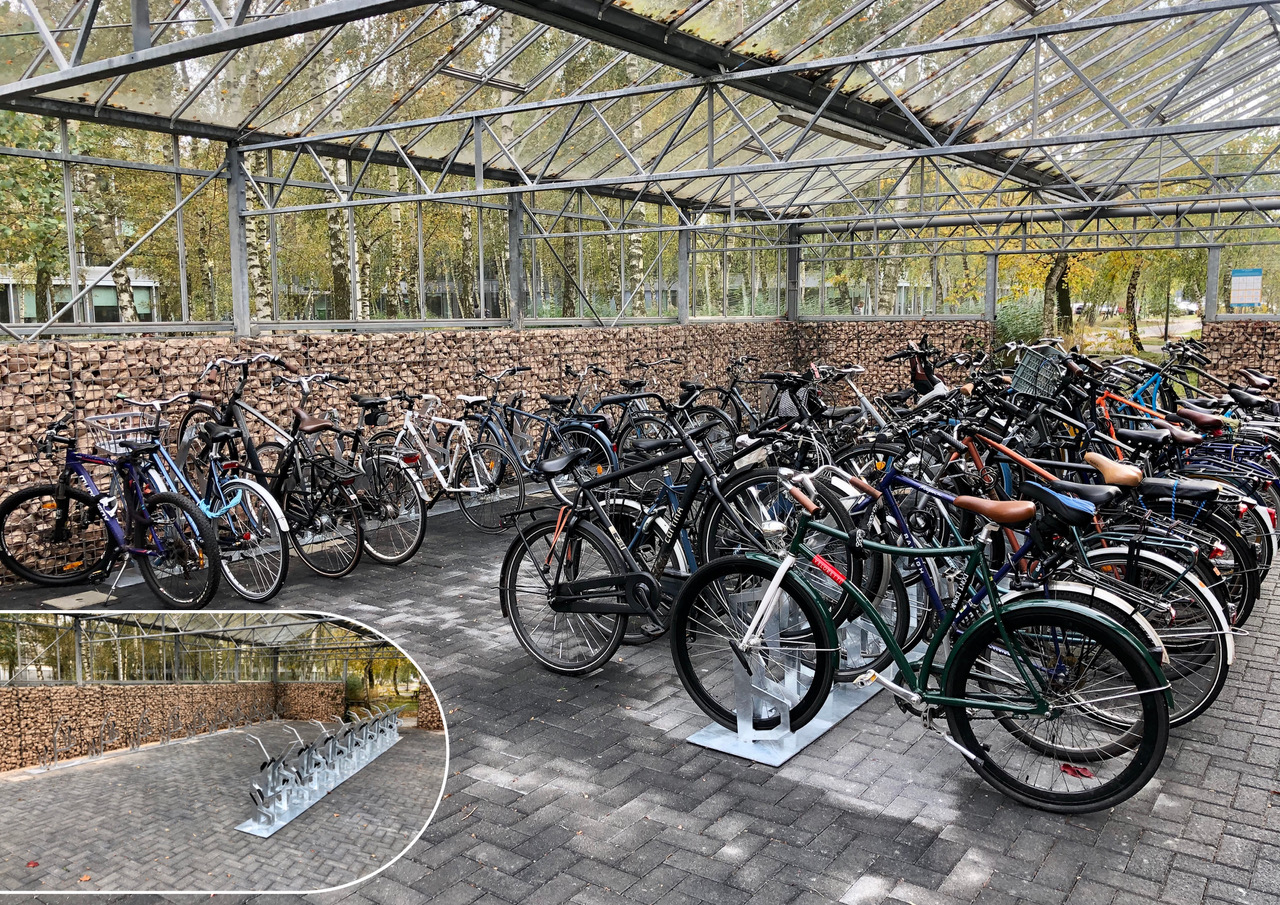 Future proof
Kooymans invested part of his time for no less than five years to map out the entire playing field of bicycle parking and to develop and test designs. The result is a parking system that fully meets the needs and wishes that he has collected from users, governments, schools and public transport companies in recent years. Because all types of bicycles fit into his system, he was also the first to receive the Bicycle Parkeur 2.0 certificate. "I always work in a future-proof way," says Kooymans. "Sustainability is the basis of everything. In 2019, the European Commission laid down an ambitious plan with the European Green Deal to drastically reduce carbon dioxide emissions. To achieve this, we must not only think green, but also act green. So encouraging cycling and realizing good facilities for cyclists. Governments and schools have a pioneering role in this: Teach what you preach."
He sums up the advantages of his system and sits on the edge of his seat. "I only work with sustainable circular materials such as (Corten) steel, stainless steel and concrete. If something breaks, parts are easy to replace and this flexibility allows you to respond well to future developments. All our bicycle parking spaces can be placed pop-up on the ground level. So no polluting excavators are needed and it is not necessary to dispose of (polluted) soil. If the facility is placed elsewhere, I don't have to remove concrete blocks from the ground and no extra soil is needed to fill the holes again. We installed my bicycle parking facility at the High Tech Campus Eindhoven in a few hours."
Bicycle parking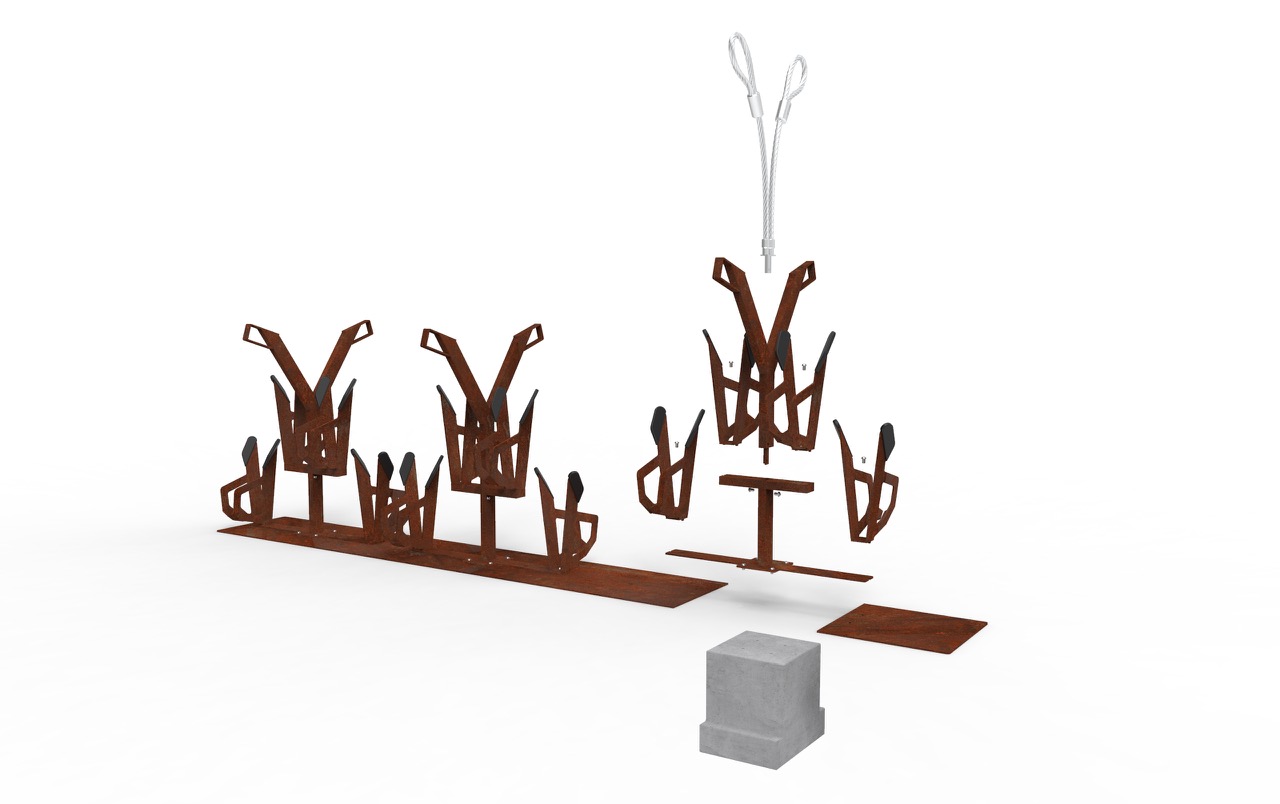 Teaching
He proudly picks up a photo showing all kinds of bicycles neatly lined up in the new bicycle parking spaces. "ProRail is now going to test our system in the municipality of Barneveld." There is also a lot of interest from abroad, says Kooymans. After all, he also solves other challenges with his integrated approach. "By producing locally as much as possible, you stimulate the local economy, people with a distance to the labor market can easily assemble my systems on site and the design is a kind of building kit based on a limited number of parts. This makes very compact transport possible (one hundred places fit on two pallets)." Full of enthusiasm: "From 2022 I will be teaching bicycle parking internationally as a Dutch Bike Parking Academy. That way I can share all my experiences."
STREET-STUFF! 
Eindhoven
06 – 230 10 540
www.street-stuff.com
This article appeared in Straatbeeld 6, theme trends. Download the magazine here.